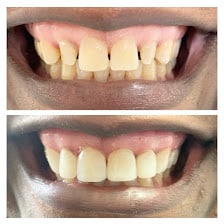 With Bioclear, Dr. Drexler will eliminate black triangles, gaps, & improve your smile in one visit!
Bioclear is a great option for patients who are not candidates for – or are not interested in veneers or crowns.
Using a highly esthetic, heated composite molding material & B
ioclear's specialized matrix system, Dr. Drexler can deliver a beautiful esthetic result in one visit.
Call or text our office at (203)255-5999 to schedule a Bioclear Consultation.